Birding Trip Report
Central Panama, August-September 2010
Stephen Poley
General
Planning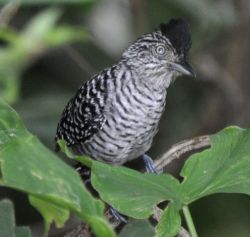 My reasons for choosing to go birding in Panama were essentially twofold. Firstly my interests are wider than just birding, and Panama has a fair bit to offer in the areas of history - the Spanish gold route - and engineering - the canal, of course. Secondly I didn't want to do a huge amount of travelling this time, and central Panama offers a lot in quite a small area.
I chose to go in the rainy season, partly because it is quite a bit cheaper and partly because my only previous trip to the rainforest was in the dry season. I wanted to see the rainforest in the rainy season this time, particularly for the butterflies.
The trip had two sections. Firstly there was a four-day cultural section, based in Panama City, to see some of the historical sites of Panama and also to find some of the commoner bird species myself. The second section was a week birding based in the rainforest at Canopy Tower.
Accommodation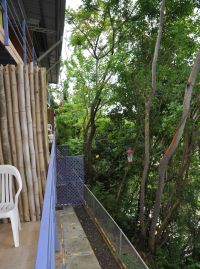 For the first section I chose to stay at a Bed & Breakfast called La Estancia. This was partly because of its proximity to the old town but also because of its location on Ancon Hill, next to a forest remnant. La Estancia is rather expensive if you travel alone because they charge you the full amount for a double room. For two people however I can definitely recommend it: friendly, good breakfasts, clean rooms, quiet location considering you are still in the city and quite a lot of birds in the immediate vicinity. Tip: if you fly to Panama and stay at La Estancia, take the airport transfer that the hotel offers. The hotel is in a somewhat hard-to-find location, and most taxi-drivers don't know it.
Canopy Tower is a former American radar station on a hilltop in the Sobrania National Park. I booked their one-week package with all meals and tours included. In the low season there is often space available, but it's still a good idea to book ahead. Various other guests stayed for between 1 and 4 nights while I was there, so each day's tours had a slightly different group of people. This represented a slight disadvantage over an organised group tour, as it meant that every time new people arrived we spent time on the common birds again. But I doubt if I missed much as a result.
Flight
Living as I do in the Netherlands, I flew direct from Amsterdam with KLM. I could have saved about EUR 150 by flying via the USA. But quite apart from the extra hours this would have added to the journey, my one recent encounter with American immigration procedures was so negative that I ruled this out immediately. Add stories I have heard from others and you would have to offer me a much larger discount to get me to even consider it.
A tip when returning: if possible, eat before you get to the airport. Tocumen airport has a huge array of shops but pathetically inadequate catering facilities, which seem to have been designed for an airport of a quarter the size. You may have a very long wait.
Weather
Most days started cloudy and a bit damp at sunrise, quickly turning sunny and warm for the morning. In the afternoon big thunderstorms built up on most days. If we were lucky they dumped their rain a couple of hills away, if we were unlucky they dumped it on us. For the most part the rain was not bad enough to seriously impede birding, but waterproof binoculars are essential.
Language
According to the guide-books the standard of English in Panama is high compared to the rest of central America. Well, maybe it is. But while the English was very good at Canopy Tower and pretty good at La Estancia, elsewhere I was glad I could manage a bit of Spanish.
Driving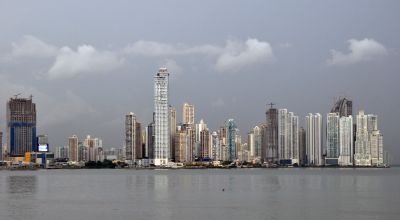 Driving in Panama City is a challenge. I managed fine, but then I've driven in Latin America more than once before. It requires great concentration and I wouldn't blame anyone for deciding to skip it. The combination of the complex road network of a major city, variable signposting, mediocre maps and Latin-American driving standards makes for an "interesting" mix. Within the city, taxis are easier and affordable, (though also somewhat stressful!), but I wanted to explore some areas outside the city as well. Once one gets away from the city, driving becomes a lot easier – except for the signposting, which gets worse. In low season one can get very good deals by booking ahead: my car, from NCR, cost just over $100 for three days, including tax and insurance. Do be careful when booking: at least one company does a deal which looks very cheap at a quick glance, but they charge you more for insurance than they do for the actual car!
Road surfaces are mostly pretty good, but big potholes can crop up on even fairly important roads. It's probably best not to drive at night.
There seems to be a distinct lack of good road maps of Panama. I tried the map I got from NCR, an "International Travel Map" and Google Maps. All were to a greater or lesser degree incomplete or confusing - one has to just accept that one will get lost a few times and allow time for searching. The map from NCR was the best of the bunch. Google Maps was worst, with some quite important roads missing. Since returning I have discovered that Open Street Map seems to be rather better than Google Maps.
Day-by-day account
Sunday August 22
Flew to Panama. With a direct flight, there was little risk of my luggage going missing. But KLM managed it anyway. After an hour or two waiting for the world's slowest lost-luggage queue, transferred to La Estancia.
Monday August 23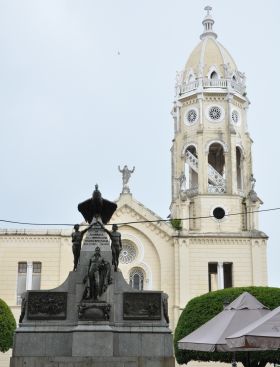 Started birding from my balcony and from the breakfast table. La Estancia puts out food for the birds and mammals and this attracts a good number. Birds regularly seen here included Crimson-backed Tanager, Orange-chinned Parakeet and Boat-billed Flycatcher apart from the omnipresent Black Vultures. Birds seen only here included Northern Scrub Flycatcher, Shiny Cowbird and Bronzed Cowbird.
The rest of the morning was spent shopping for emergency items to make up for the lack of luggage. Albrook Mall is an enormous shopping centre which has most things you need and many things you don't.
Spent the afternoon at the old town or Casco Antiguo (also known as Casco Viejo). Although quite close to the hotel the hotel staff (and guide book) recommend taking a taxi because Casco Antiguo is surrounded by a belt of slums. Walking through them with a camera bag is perhaps not a very good idea. Got out of the taxi and within a minute got my first experience of a Panamanian rainy-season downpour. Spent an hour sheltering in the arcades of the National Theatre. Once it relented, I had a walk around the old town, which is worth a visit. Besides interesting buildings, the north side of the peninsula produced a few birds such as Brown Pelican, Laughing Gull and a single Franklin's Gull.
Tuesday August 24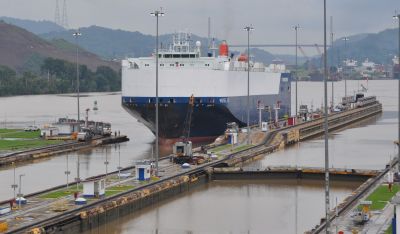 After breakfast, I walked up to the top of Ancon Hill where one has good views over the surroundings. A Blue-headed Parrot was the star as far as birds are concerned, while the first migrants had also arrived: American Redstart and Olive-sided Flycatcher.
Later in the morning I picked up the car and drove back to hotel. Then I set off exploring and immediately got lost, but found a Blue-Black Grassquit doing its weird jumping act in waste ground near the Puente de las Americas. Then found the road I was looking for and visited Miraflores locks on the Panama Canal. These are very impressive, and watching a ship passing through is fascinating. They were made even better by the presence of Bat Falcon, Ringed Kingfisher and Southern Lapwing.
I then had a look at the Pedro Miguel locks further on, and ended up at Summit Gardens, a zoological/botanical garden. Here the weather was very dark and threatening, but a few birds showed themselves, such as Golden-hooded Tanager, Thick-billed Euphonia, Collared Aracari and Gray Hawk.
To round off the day I visited the Amador Causeway, which sticks a few kilometres out into the sea. It's all rather overrun with restaurants and other tourist facilities, but at least there were a few Blue-footed Boobies flying past. Brown Boobies are supposed to be commoner here, but none obliged.
The evening had two highlights: a Tropical Screech Owl calling by the hotel, and the arrival of my luggage.
Wednesday August 25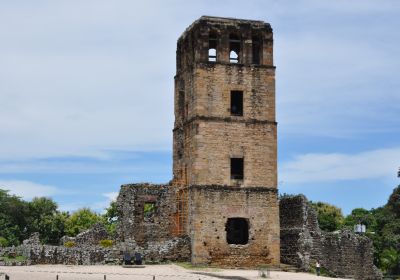 In the morning I visited the Parque Metropolitano: an area of preserved forest (some original, some second growth) on the edge of the city. I was delayed first by a small problem with the car and then by getting comprehensively lost, so got there later than intended. However there was still plenty of activity at ten o'clock. Highlight for me was a good view of a Blue-crowned Motmot, as this was not just a new species for me but also a new family. As it happened this bird did not have the rackets which are so characteristic for motmots. I also found a few other new birds such as Slaty-tailed Trogon, Rufous-breasted Wren and Long-billed Gnatcatcher. There were also numerous handsome dragonflies and spiders.
The next location on the itinery was Panama Viejo. This is definitely a spot not to be missed, as it is both the site of the first Spanish city in Panama, founded in 1519, and also the best location for shorebirds in the area. The city was destroyed by Henry Morgan in 1671, but there is still enough left to be worth a visit. And on the shore I quickly found a dozen new species, such as Gull-billed Tern, Black-necked Stilt, Semipalmated Plover and White Ibis.
Thursday August 26
Drove over the isthmus to the Caribbean coast. The main purpose was to visit Castilo San Lorenzo at the mouth of the Chagres river: the Caribbean end of the Spanish gold route. Had hoped to see several new birds as well, but apparently one has to be very early on the Caribbean coast. Whereas on the Pacific side birds tended to be quite active until late morning, on the Caribbean side everything had gone quiet by 10 o'clock. I did in fact manage to find about ten new species eventually, but only Common Black Hawk was a Caribbean-slope speciality. Also saw an American Kestrel - apparently this was exceptionally early for this migrant.
Friday August 27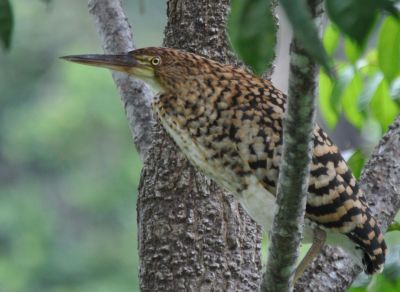 A last walk on Ancon Hill produced Lesser Elaenia and Plain Wren – the sort of birds which are actually quite interesting if you manage to find and identify them yourself.
In total I saw 36 species on or from Ancon Hill, all but a handful immediately around the hotel. There were also a few mammals here: I had good views of Agouti, Variegated Squirrel, Three-toed Sloth and Geoffroy's Tamarin.
Transferred to the Canopy Tower: this is only about 15 km from Panama City. Started getting to grips with the hummingbirds at the feeders: six species are regular visitors. From the observation platform a White Hawk made for a beautiful sight circling against a backdrop of the dark green forest and a Short-tailed Hawk flew over.
The first excursion in the afternoon was to the pools next to what is generally known as the old Gamboa ammo dump. Apparently it is now again in use for explosives, this time for the widening of the canal. The main target bird here is White-throated Crake, which we heard several times, but did not manage to see. Other birds around were Grey-headed Chachalacas, Panama Flycatcher, Violet-crowned Woodnymph and a very early pair of Orchard Orioles.
Saturday August 28
The morning trip was a walk down the entrance drive of Canopy Tower, known as Semaphore Hill. Here Alexis demonstrated his skill at conjuring birds up out of apparently birdless bushes, and I could get to grips with some of the commoner rainforest species, such as Western Slaty Antshrike and Dot-winged Antwren. Also a Southern Bentbill showed itself.
The afternoon trip was to the mouth of the upper Chagres River, where it flows into Gatun lake. This time the rainy season made itself felt and we spent a while sheltering in the porch of a restaurant, but we nonetheless managed several new birds, such as Anhinga, Black-cheeked Woodpecker and a pair of Snail Kites. The drive back was perhaps the only negative experience of the Canopy Tower week: sitting in an open truck in a downpour isn't a whole bundle of fun, even if it is only for ten or fifteen minutes.
Sunday August 29
In the morning we walked the first section of the famous Pipeline Road. Among other birds we found Chestnut-mandibled Toucan, Crimson-crested Woodpeckers and had good views of two Song Wrens. We were also shown a roost of Night Monkeys a little way from the road; the chance of finding this without a guide would be very small.
The afternoon trip was to the Chagres river again, but a little higher up this time, by the Gamboa orchid nursery. The highlight was a Blue Cotinga sitting quietly in full view. Other birds included Cinnamon Becard, Piratic Flycatcher, and a Muscovy Duck flying over.
Monday August 30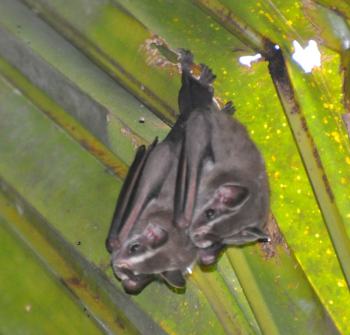 In the morning we walked the Plantation Trail, quite close to the Canopy Tower. Highlights included Black-throated and Violaceous Trogons, Rufous Motmot and particularly Golden-crowned Spadebill, while an Olivaceous Flatbill allowed us to get so close that even I managed a few photos.
In the afternoon we visited Summit Gardens, where we found a few birds I hadn't seen on my first visit, such as Purple-throated Fruitcrow and Crane Hawk. Today's cuteness contest was however easily won by some Tent-making Bats.
After dinner we did a night drive down Semaphore Hill. This produced views of Great and Common Potoos, and we heard a Vermiculated Screech Owl. We also had good views of a Two-toed Sloth (which is mostly nocturnal, unlike its Three-toed cousin) and briefer views of a Woolly Opossum.
Tuesday August 31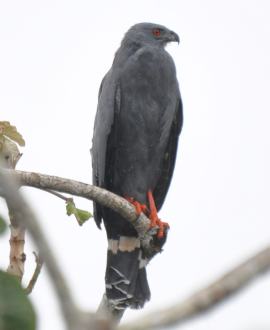 Today we visited the rest of the Pipeline Road. Bird of the day according to the guide was a group of three Pygmy Antwrens, or Moustached Antwrens as they are now called. These tiny, pretty birds normally stay high up in the canopy where they are almost impossible to see, but these gave quite good views.
For myself I was delighted to see a Scaly-throated Leaftosser. Having read the description in Ridgely this was one bird I had ruled out seeing at all, but here was one close enough to get a couple of (admittedly not very good) photos. Other good birds included Ocellated Antbird and Ruddy-tailed Flycatcher.
On the way back we stopped at the ammo dump ponds again, and this time a White-throated Crake popped briefly into view.
The day was rounded off nicely when, back on the Canopy Tower observation deck at sunset, a strange pair of nightjars flew past, with short tails and no white in the wings: Short-tailed Nighthawks.
Wednesday September 1
This morning we headed back to Panama City to visit the Parque Metropolitano: this time a different area from the one I had visited on my own. The birds there included Golden-collared and Lance-tailed manakins and Orange-billed Sparrow. We also heard a Rosy Thrush Tanager at close quarters, but had only a glimpse of it slipping away through the undergrowth.
In the afternoon we visited Summit Ponds. This area is no longer open to the general public; one must apply for a permit to visit. The highlight here was Boat-billed Heron: one sitting quietly in a tree. We also had a good view of Black-faced Ant-thrush, which we had heard many times, but which is very hard to see.
Thursday September 2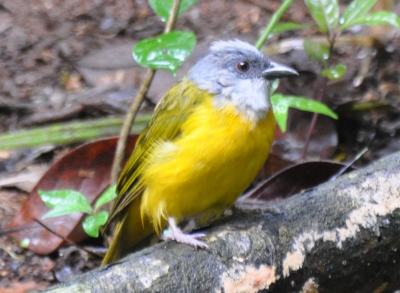 For groups staying a full week, the last full day is a "catch-up" day where the guides try to track down species that have been missed. This even applies to groups of one! So I noted down a dozen or so of the species on the Canopy Tower list that I hadn't seen, and we headed off to Pipeline Road in the morning, followed by the Chagres river in the afternoon. This time the weather turned the usual pattern on its head: it was wet in the morning and dry in the afternoon. Alexis did very well: he managed to find more than half of the birds on my list, including White-tailed Trogon, Black-headed Tody-Flycatcher and Purple-crowned Fairy, and a better view of Rosy Thrush Tanager.
On the way back we saw some Trogons in the open on the telephone wires, which seemed to me decidedly out of place.
Friday September 3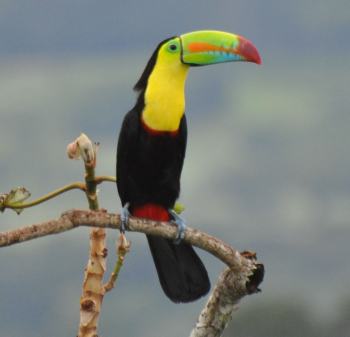 Due to the very dull weather the guide decided to visit the open habitat of Summit Gardens again in the morning rather than doing the forest as usual; this was a new location for the other guests. The gardens were being visited by a large party of local schoolchildren; as a result we were ourselves among the animals which received a good deal of attention! Most of the birds were familiar for me by now, but I still got a couple of new species. Most spectacular was a group of a couple of hundred Plumbeous Kites passing over.
Just before I left for the airport in late afternoon, a group of 40 Swallow-tailed Kites over the Canopy Tower made for a nice send-off. And once again the adage of "never stop looking" proved its worth: I found the last bird of the trip right at the airport entrance: Night Heron.
Summing up
My trip total was 234 species of birds, 88 during the "cultural" days and 208 during the Canopy Tower week. Then there were 14 species of mammals, and who knows how many butterflies and dragonflies. Pretty good for low season on what was in essence a one-centre trip.
It was a thoroughly enjoyable trip. I can certainly recommend Panama in general and the Canopy Tower in particular.
---